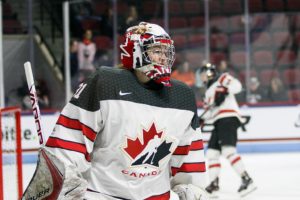 Team Canada has gone through Group A undefeated in women's hockey at the 2018 Olympic Winter Games in Pyeongchang. On Thursday in Pyeongchang (Wednesday in Canada), Team Canada defeated the United States 2-1.
Team Canada won the hockey game even though they were outshot 45-23 by the Americans. It was a marvelous game for Team Canada goaltender Genevieve Lacasse of Montreal, Quebec, who made 44 saves on 45 shot attempts.
After a first period where there were not any goals, Team Canada got markers from Meghan Agosta of Windsor, Ontario and Sarah Nurse of Hamilton, Ontario. Then in the third period, Team Canada was outshot 13-5 to the United States, but Lacasse only gave up a single goal to American forward Kendall Coyne at the 23 second mark.
Nurse comes from a remarkable sports family as her cousin Darnell is a defenseman for the Edmonton Oilers, her other cousin Kia is the top basketball player on the Canadian National Women's Team, her uncle Richard was a wide receiver for the Hamilton Tiger-Cats, and her other uncle Donovan McNabb, was a quarterback for the Philadelphia Eagles.
Team Canada's most valuable member so far just might be their goaltending coach Brad Kirkwood. In a remarkable statistic, Team Canada went through Group A undefeated by using three different goaltenders. Ann-Renee Desbiens of La Malbaie, Quebec made 18 saves in the 5-0 Canadian shutout over the Olympic Athletes from Russia and Shannon Szabados of Edmonton, Alberta made 22 saves in Canada's 4-1 win over Finland. To get three different goaltenders ready to go in a span of five days is quite remarkable.