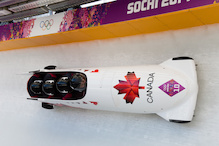 Team Canada won the silver medal on Sunday in a World Cup four-man bobsled competition in Winterberg, Germany according to CBC Sports. The Canadian team comprised of driver Justin Kripps of Summerland, British Columbia, Ryan Sommer of White Rock, British Columbia, Ben Coakwell of Regina, Saskatchewan, and Cam Stones of Oshawa. Ontario.
The Canadian squad posted a time of 1:48.70. The German team of Francesco Friedrich, Alexander Schueller, Thorsten Margis, and Candy Bauer won the gold medal with a time of 1:48.13. The Austrian team of Benjamin Maier, Kristian Huber, Markus Sammer, and Sascha Stepan won bronze with a time of 1:48.89.
Canada won a medal by 0.38 seconds. The Russian team of Rostislav Gaitiukevich, Mikhail Mordasov, Ilya Malykh, and Ruslan Samitov finished in fourth place with a time of 1:48.89.
This was Kripps's 13th career World Cup medal in four-man. The Olympic gold medalist in the World Cup two-man bobsled competition from the 2018 Olympic Winter Games in Pyeongchang now has won five gold medals, three silver medals, and five bronze medals in the World Cup four-man event.
This was the first of four World Cup four-man bobsled competitions this season. There will also be World Cups in St. Moritz, Switzerland; Konigssee, Germany; and Innsbruck, Austria. In addition to the four World Cups this season, the World Four-Man Bobsleigh Championships will take place on February 13 and 14 in Altenberg, Germany. The silver medal for Kripps, Sommer, Coakwell, and Stones will give them confidence as they prepare for the 2022 Olympic Winter Games in Beijing.