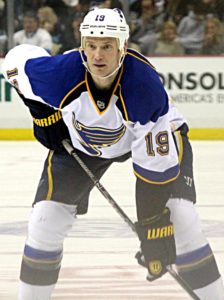 Canadian Olympic gold medalist Jay Bouwmeester of the St. Louis Blues has announced his retirement at age of 37 according to Gavin Lee of Pro Hockey Rumors. A native of Edmonton, Alberta, Boumeester played 17 seasons in the National Hockey League with the Florida Panthers, Calgary Flames, and Blues from 2002 to 2020.
The two-time all-star while with the Panthers in 2007 and 2009, had 88 goals and 336 assists for 424 points in 1240 games. He was a -17 with 635 penalty minutes, 135 power play points, seven shorthanded points, eight game winning goals, and 1994 shots on goal.
Last season with the Blues, Bouwmeester had one goal and eight assists for nine points in 56 games. He had 20 penalty minutes, one shorthanded point, 53 shots in goal, 68 blocked shots, 42 hits, 11 takeaways, and 32 giveaways. Bouwmeester's shorthanded point came on a goal by Oskar Sundqvist on November 27. 2019 in a 4-3 win Blues win over the eventual Stanley Cup champion, Tampa Bay Lightning. Bouwmeester was part of a Blues team that won the 2019 Stanley Cup.
Unfortunately, Boumeester's final game was on February 11, 2020, when he had a cardiac episode on the bench in a game between the Blues and the Anaheim Ducks. Boumeester was taken off the ice on a stretcher and the game was postponed to a later date.
On the international scene, Bouwmeester won his Olympic gold medal for Canada at the 2014 Olympic Winter Games in Sochi. He also won the gold medal for Canada at the 2003 and 2004 World Men's Hockey Championship (2003 in Finland and 2004 in the Czech Republic), and the 2004 and 2016 World Cup titles in Toronto.