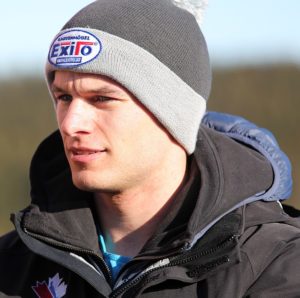 Team Canada won the bronze medal in a World Cup team relay luge competition in Whistler, British Columbia on Saturday. The Canadian team comprised of Reid Watts of Whistler, British Columbia, and Kyla Marie Graham, Tristan Walker and Justin Snith of Calgary, Alberta. Walker and Snith won the silver medal in the team relay luge competition at the 2018 Olympic Winter Games in Pyeongchang.
The Canadian team had a time of two minutes, 4.413 seconds. In a shocking upset, the Russian team beat Germany to win gold. The Russian squad of Tatyana Ivanova, Semen Pavlichenko, Vsevolod Kashkin and Konstantin Korshunov posted a winning time of 2:04.124. The German squad of Natalie Geisenberger, Felix Loch, Toni Eggert and Sascha Benecken had a silver medal winning time of 2:04.214.
Canada reached the podium by .140 seconds. The Italian squad of Andrea Voetter, Dominik Fischnaller, Ludwig Rieder and Patrick Rastner had a fourth place time of 2:04.553.
This was the first team relay of the 2018-19 World Cup luge schedule. The world's best lugers will be competing at Canada Olympic Park in Calgary, Alberta on Saturday. The series will then shift to Europe for races in Berchtesgaden-Konigssee, Germany on January 6, in Sigulda, Latvia on January 13, in Altenberg, Germany on February 3 and in Oberhof, Germany on February 10.
For decades, Germany has been the most dominant nation in luge. That is why the gold medal for Russia on Saturday was so surprising. The bronze medal for Canada was equally as impressive because Watts and Graham are inexpereienced in the singles events. Two-time Olympic medalist Alex Gough and Olympic silver medalist Sam Edney of Calgary, Alberta, have each retired from luge.