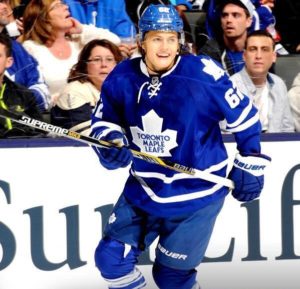 The Toronto Maple Leafs of the National Hockey League have signed Calgary native William Nylander to a long term contract. Nylander, a centre, who had not played with the Maple Leafs so far this season, came to terms on a six year deal worth $44 million on Saturday.
In the contract, Nylander will receive a remarkable $10,277,778 in 2018-19 and $6,962,366 million in each season from 2019-2020 to 2023-24. The $10 million salary Nylander is receiving in 2018-19 could be considered high to some when you consider the fact he missed the first 27 games of the 2018-19 National Hockey League regular season because of a contract dispute.
It will now be interesting to see where Nylander fits into the Maple Leafs lineup. He has had a lot of chemistry in the past alongside Auston Matthews.
However there is no question that the Maple Leafs are doing extremely well at the moment. They have a record of 19 wins and eight losses, and their 38 points is only three points back of the NHL leading Tampa Bay Lightning.
In 82 games for the Maple Leafs last season, Nylander was third on the team in scoring with 61 points. He had 20 goals, 41 assists, was a +20, with only 10 penalty minutes. Nylander also had 12 power play points, eight game winning goals, 184 shots on goal, 18 blocked shots, 21 hits and 334 faceoff wins.
William Nylander was born in Calgary while his father Michael was playing for the Calgary Flames. He represents his father's native country of Sweden internationally.