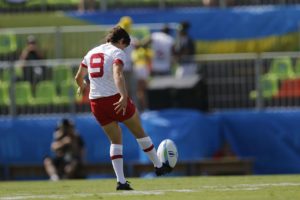 Team Canada won the bronze medal at the 2018 Women's Rugby Sevens World Series in Paris, France on Sunday. The Canadians beat the home country favourites of France 17-10 in the bronze medal game for their second women's rugby sevens World Series medal of the 2017-18 season.
Team Canada qualified for the quarterfinals after finishing in second place in Pool B. They defeated Russia 31-5 and Fiji 21-12 before losing to Australia 31-14. In Canada's win over Russia, Ghislaine Landry of Toronto, Ontario led the Canadian attack with two tries. In Canada's win over Fiji, Bianca Farella of Montreal, Quebec also had two tries.
In the quarterfinals, Canada got revenge against the United States. After losing to them 28-26 in the quarterfinals at the Women's Rugby Sevens World Series event at Westhills Stadium in Langford, British Columbia on May 13, Canada beat the United States 26-24 on tries by Landry, Farella, Charity Williams of Toronto, Ontario and Brittany Benn of Napanee, Ontario. The United States could have tied the match on a late try by Naya Tapper, but Alev Kelter completely missed the uprights in an attempted conversion to tie the contest.
In the semifinals, Canada lost 34-7 to New Zealand, before beating France by a converted try in the bronze medal game. The Canadians who recorded tries in the bronze medal game were Landry, Williams and Farella.
In the gold medal game in Paris, New Zealand trounced Australia 33-7. Canada meanwhile finished in fourth place in the 2017-18 Women's Rugby Sevens World Series standings with 60 points. They were behind Australia, New Zealand and France. Canada's other medal in the 2017-18 Women's Rugby World Series was a bronze in Sydney, Australia on January 28.
The next major competition for the best women's rugby sevens players will be the 2018 Rugby World Sevens Cup which will take place in San Francisco (at AT&T Park, home of the San Francisco Giants of Major League Baseball) from July 20-22. This is the first Rugby Sevens World Cup ever in North America and last Rugby Sevens World Cup before the 2020 Olympic Games in Tokyo.