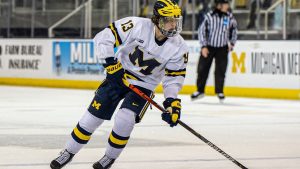 Team Canada is in the gold medal game of the 2022 World Junior Hockey Championship in Edmonton, Alberta. On Friday, Canada defeated the Czech Republic 5-2 in the first of two semifnals.
Two Canadian players had three points each. Center Kent Johnson of Port Moody, British Columbia had one goal and two assists, while defenseman Olen Zellweger of Calgary, Alberta had three assists. A third Canadian player had a multi-point game as Kamloops Blazers center Logan Stankoven of Kamloops, British Columbia had one goal and one assist for two points. The three other Canadian goal scorers were Sherbrooke Phoenix left winger Joshua Roy of Saint-Georges-de-Bea, Quebec, Hamilton Bulldogs center Mason McTavish, and Regina Pats center Connor Bedard of North Vancouver, British Columbia.
Team Canada will next play Finland in the gold medal game on Saturday. In the second semifinal game, Finland blanked Sweden 1-0 on Friday night. Ironically, this will be the first time ever that Canada will be playing Finland in the gold medal game of the World Junior Hockey Championship. Canada has won the gold medal a record 18 times, while Finland has the third most titles with five. The country with the second most World Junior Hockey Championships is Russia with 13.