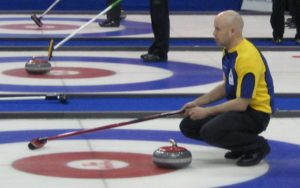 Canada has continued their undefeated run at the 2019 World Men's Curling Championship at the Enmax Centre in Lethbridge, Alberta. On Monday, the Canadian squad skipped by Kevin Koe of Calgary, Alberta, trounced Norway 10-2 to improve to a record of five wins and zero losses.
The turning point in the contest came in the third end when Norwegian skip Magnus Ramsfjell flashed with his final stone, and was unable to remove the four Canadian stones lying either in the eight foot or four foot. This allowed Koe to draw to the eight foot successfully for a fifth Canadian point in the end. A 2-1 Canadian lead turned into a 7-1 lead.
In the sixth end and Canada leading 8-2, Ted Appelman came into the game as the lead. He replaced Colton Flasch and Canada moved Ben Hebert from lead to second. Appelman curled 88% with his two shots.
It was the second time at the World Men's Curling Championship that Appelman played in a game. On Saturday, he made all three draws and one takeout in the sixth and seventh ends in an 11-3 Canada rout over Russia.
Team Canada is currently one of three teams undefeated in the tournament to date. They are joined by Switzerland and Sweden. On Tuesday, Canada's opponent will be Germany, who has a record to date of one win and four losses. Germany's lone win came on Sunday when they beat South Korea 10-9.