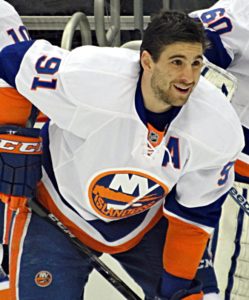 The Toronto Maple Leafs became the third Canadian National Hockey League franchise to clinch a playoff spot for the 2019 Stanley Cup Playoffs when they beat the New York Islanders 2-1 on Monday. Canadian Olympic gold medalist John Tavares of Mississauga, Ontario scored the game winning goal for the Maple Leafs at 3:50 of the third period from Mitch Marner of Markham, Ontario.
For Tavares it was his 46th goal of the season and eighth game winning goal. So far in 2018-19 he has career highs in goals (46), points (87), plus/minus (+20), even strength goals (37), blocked shots (52) and hits (55). Tavares's 37 even strength goals also leads the NHL.
Marner was one of three Canadians to record an assist in the Maple Leafs' narrow one goal win over the Islanders. Connor Brown of Toronto, Ontario and Nazem Kadri of London, Ontario had assists on the first period Maple Leafs goal by defenseman Calle Rosen, who scored his first career NHL goal at 2:17 of the second period.
The Maple Leafs are currently in third place in the Atlantic Division with 99 points. They will play the Boston Bruins in the first round of the playoffs. However on Tuesday, they have a chance of being a spoiler when they play the Carolina Hurricanes. The Hurricanes, Columbus Blue Jackets and Montreal Canadiens are battling for two playoff spots at the moment. The Blue Jackets have 94 points. The Hurricanes have 93 points and the Canadiens have 92 points.