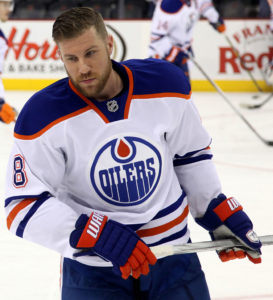 Team Canada has qualified for the quarterfinals in the Olympic men's hockey tournament at the 2018 Olympic Winter Games in Pyeongchang. On Sunday, Team Canada blanked South Korea 4-0 to close out Group A action.
Former Edmonton Oilers center Derek Roy of Ottawa. Ontario led Canada in points with two as he notched two assists. The Canadian goal scorers were Christian Thomas of Toronto, Ontario (scored the game winning goal at 7:36 of the first period), Eric O'Dell of Ottawa, Ontario, Maxim Lapierre of Saint-Leonard, Quebec and Gilbert Brule of Edmonton, Alberta.
It was also a steady performance by Canadian goaltender Kevin Poulin of Montreal, Quebec. Poulin made 19 saves for the shutout.
One could wonder why did Canada only beat South Korea by four goals? The answer is the outstanding play by Canadian-born goaltender Matt Dalton of Clinton, Ontario, who has South Korean citizenship, On Sunday, he had 45 saves in the loss. Dalton, has played the last four seasons for Anyang Halla in the Asia League and has a goals against average in each of the last three seasons under two.
With the win, Team Canada improved to a record of 2-0-1 and will play the winner of Finland and South Korea in the quarterfinals. The other playoff round games have the United States versus Slovakia, Slovenia versus Norway and Switzerland versus Germany. The teams joining Canada in the quarterfinals are the Olympic Athletes from Russia, Sweden and the Czech Republic. Canada's next game will be Wednesday in Pyeongchang (either Tuesday evening or Wednesday morning).