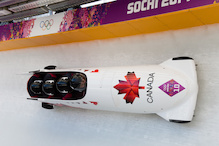 Justin Kripps of Summerland, British Columbia and Alexander Kopacz of London, Ontario are in medal contention after the second run in two-man bobsled at the 2018 Olympic Winter Games in Pyeongchang.  Kripps and Kopacz posted a two-run time of 1:38.49 on Sunday and only trail Nico Walther and Christian Poser of Germany by one tenth of a second.
Kripps and Kopacz had the second fastest time in the first run as they only trailed Oskars Melbardis and Janis Strenga of Latvia by two one hundredths of a second. Melbardis and Strenga set the Alpensia Sliding Centre track record with a time of 49.08 seconds, while Kripps and Kopacz had a time of 49.1 seconds.
In the second run, Kripps and Kopacz had the third fastest time with a run of 49.39 seconds. They only trailed the German pair of Walther and Poser, who had a time of 49.27 seconds, and Johannes Lochner and Christian Weber, also of Germany, who had a time of 49.34 seconds.
After two runs, Kripps and Kopacz lead Lochner and Weber by nine one hundredths of a second. Lochner and Weber have a time of 1:38.58. Kripps and Kopacz also lead Melbardis and Strenga, who are currently in fourth place with a time of 1:38.62. After setting the track record in their first run, Melbardis and Strenga only had the tenth fastest second run and fell out of a medal position. The third and fourth runs in two-man bobsled can be seen on TSN starting at 4 am MT on Tuesday.