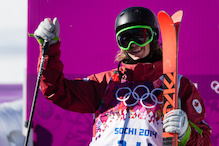 Alex Beaulieu-Marchand of Quebec City, Quebec has won Canada's 16th medal of the 2018 Olympic Winter Games in Pyeongchang, Known as "ABM", Beaulieu-Marchand won the bronze medal in the men's slopestyle skiing event on Saturday (Sunday in South Korea).
Beaulieu-Marchand posted a score of 92.4 points. Oystein Braaten of Norway won the gold medal with 95 points. Nick Goepper of the United States won the silver medal with 93.6 points. Beaulieu-Marchand reached the podium by 1.4 points over James Woods of Great Britain who finished in fourth place with a score of 91 points.
In the men's Olympic slopestyle skiing final, Beaulieu-Marchand had his best score in his second attempt. All slopestyle skiers who qualified for the final had three attempts and the best run of the three was their score. Where Beaulieu-Marchand seemed to impress the judges the most were his excellent, clean landings in his jumps and his ability to grab his skis while in the air.
Beaulieu-Marchand was one of three Canadians who qualified for the final. Teal Harle of Campbell River, British Columbia was fifth and Evan McEachran was sixth.
Beaulieu-Marchand became Canada's third freestyle skier to medal in Pyeongchang, as he followed in the footsteps of mogulists Mikael Kingsbury and Justine Dufour-Lapointe. Kingsbury of Sainte-Agathe-des-Monts, Quebec won gold on February 12 in men's moguls and Dufour-Lapointe of Montreal, Quebec won silver on February 11 in women's moguls,
Team Canada now has five gold medals, five silver medals and six bronze medals. They are only behind Norway (25 medals) and Germany (17 medals) in the overall medal standings.