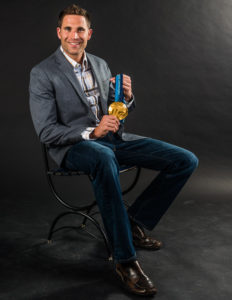 There is no doubt that the Canadian team in mixed doubles curling at the 2018 Olympic Winter Games in Pyeongchang will be very experienced in curling, just not in mixed doubles. Sunday will see Val Sweeting of Edmonton, Alberta and Brad Gushue of St. John's, Newfoundland play two Winnipeg natives in John Morris and Kaitlyn Lawes in the final of the 2018 Canadian Olympic Mixed Doubles Curling Trials in Portage La Prairie, Manitoba.
Sweeting and Gushue will be looking for the same result on Sunday that they had on Saturday where they beat Lawes and Morris 9-4 in the 1-2 page playoff game. Lawes and Morris then got redemption Saturday night when they beat Jocelyn Peterman of Red Deer, Alberta and Brett Gallant of Charlottetown, Prince Edward Island 7-3.
Sweeting and Gushue had only played three games of mixed doubles curling before the Canadian Olympic Mixed Doubles Curling Trials. They then got off to a slow start as they lost 6-4 to Chelsea Carey of Calgary, Alberta and Colin Hodgson of Winnipeg, Manitoba and 7-6 to Edmonton's Dana Ferguson and Brendan Bottcher on the opening day. However since then, Sweeting and Gushue have won eight of nine games.
Morris and Lawes may have the advantage on Sunday when it comes to mixed doubles experience. Morris and Rachel Homan of Ottawa, Ontario went to the final of the 2017 Canadian Mixed Doubles Curling Championship in Saskatoon, Saskatchewan before losing to Joanne Courtney of Ottawa, Ontario and Reid Carruthers of Winnipeg, Manitoba 9-6.
Morris is born in Winnipeg, but represents a lot of provinces. In addition to being from Manitoba, he has represented Ontario, Alberta and British Columbia in the Brier in the past.