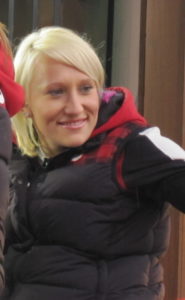 Canadian bobsledders struck gold not just once but twice on Saturday in Altenberg, Germany. Kaillie Humphries of Calgary, Alberta and Phylicia George of Toronto, Ontario won gold in the women's bobsled and Justin Kripps of Summerland, British Columbia and Alexander Kopacz of London, Ontario won gold in the men's bobsled.
Humphries and George posted a time of 1:52.62. Jamie Greubel Poser and Aja Evans of the United States won the silver medal with a time of 1:53.31. Anna Koehler and Annika Drazek of Germany won the bronze medal with a time of 1:53.52. Humphries and George reached the podium by 0.98 seconds over Christina Hengster and Jennifer Onasanya of Austria, who had a fourth place time of 1:53.60.
Now it will be interesting going forward who Humphries will have as her brakewoman. Over the last year it has primarily been Melissa Lotholz of Barrhead, Alberta. However, Humphries was so dominant on Saturday in her win with George, it would not be a shock to see George, who is a high performance Canadian hurdler and sprinter, to be in the back of Humphries' bobsled at the 2018 Olympic Winter Games in Pyeongchang. 
Humphries continues to lead the World Cup standings. She has a 80 point lead on Greubel Poser.
On the men's side, Kripps won the two-man race with Kopacz on his 31st birthday. Kripps and Kopacz posted a winning time of 1:49.21. Francesco Friedrich and Martin Grothkopp of Germany won the silver medal with a time of 1:49.30. Oskars Kibermanis and Matiss Miknis of Latvia won the bronze medal with a time of 1:49.72. Nick Poloniato of Hamilton, Ontario and Neville Wright of Edmonton, Alberta, finished in fourth place with a time of 1:49.80.
Kripps leads the World Cup standings with 1239 points. He has a 148 point lead on Chris Spring of Calgary.