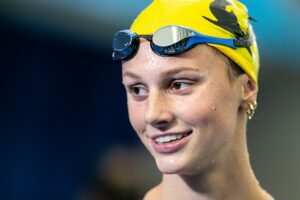 Summer McIntosh of Toronto, Ontario has won a gold medal at a World Aquatics Championship for the third time in her career. On Thursday, she won the gold medal in the women's 200 metre butterfly swimming event at the 2023 World Aquatics Championship in Fukuoka, Japan.
McIntosh posted a winning time of 2:04.06. Elizabeth Dekkers of Australia won the silver medal with a time of 2:05.46. Regan Smith of the United States won the bronze medal with a time of 2:06.58. McIntosh reached the podium by 2.99 seconds over Lana Pudar of Bosnia and Herzegovina, who had a fourth place time of 2:07.05.
In winning gold on Thursday, McIntosh defended her world championship title in the women's 200 metre butterfly. When she won the gold medal at the 2022 World Aquatics Championship in Budapest, Hungary, her time was 2:05.20. McIntosh beat that time on Thursday by 1.14 seconds, and in the process set the World Junior record and Americas record. She had the previous world junior record and Americas record of 2:04.70, which was set at the 2023 Canadian Swimming Trials in Toronto, Ontario on March 31.
McIntosh's other Word Championship gold medal came last year in Budapest when she was first in the women's 400 metre medley. She now has six World Championship medals overall. The gold medal for McIntosh will give her confidence as she prepares for the 2024 Olympic Games in Paris.