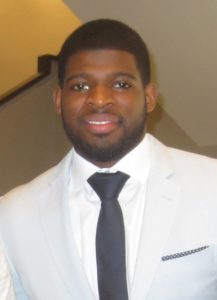 Canadian Olympic gold medalist P.K. Subban of Toronto, Ontario was instrumental in the Nashville Predators playoff win on Sunday in game two of the second round series against the Winnipeg Jets at the Bridgestone Arena in Nashville, Tennessee. Subban had one goal and one assist for two points as the Predators beat the Jets 5-4 in double overtime.
Subban recorded an assist on the Predators' first goal of the game, which was only 27 seconds into the first period. He and Filip Forsberg recorded a helper on a goal scored by Ryan Johansen of Vancouver, British Columbia which put Nashville up 1-0 at the time.
Subban then scored for the Predators at 5:04 of the second period on the power play which tied the game at two goals apiece. Forsberg and Viktor Arvidsson notched assists.
Subban was one of four Predators players to have a multi-point game in their game two win. The others were Arvidsson (one goal and two assists), Forsberg (three assists) and Johansen (two goals).
Subban won an Olympic gold medal for Canada at the 2014 Olympic Winter Games in Sochi. So far in the 2018 Stanley Cup Playoffs, Subban has one goal and four assists for five points in eight games.
The Jets and Predators series now shifts to Canada for game three. Bell MTS Place in Winnipeg will be the host site on Tuesday.