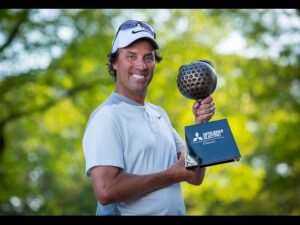 Stephen Ames of Vancouver, British Columbia won the 2023 Prinicipal Charity Classic from the Wakonda Golf Course in Des Moines, Iowa on Sunday. For Ames it was his fifth career victory on the Champions Tour. Ames now has more career victories on the Champions Tour (five) than he did on the PGA Tour (four).
Ames had a three-round score of -17. He beat Americans Jerry Kelly and Steve Stricker by one stroke each. Ames had been at -16, and then delivered with an outstanding approach shot on the par three 17th hole, which put him in striking distance of getting a birdie. Ames then picked up his score of two to take a one-stroke lead. It would be a lead he would not relinquish.
Two more golfers were in contention. American Tim Petrovic and Australian Rod Pampling were two strokes back and tied for fourth place at -15.
Ames began the tournament with six birdies for a score of -6 on Friday. He birdied the first, seventh, eighth, 13th, 17th and 18th holes. In round two, Ames shot another six-under-par 66. He eagled the par five fifth hole, and then had birdies on the seventh, eighth, ninth and 18th holes. Then in the final round, Ames birdied the fourth, sixth, eighth, ninth, 12th and 17th holes, and bogeyed the 14th hole for a score of -5.
This is the second time Ames has won the Principal Charity Classic. He previously beat fellow Canadian Mike Weir of Sarnia, Ontario in 2021. Ames's three other Champions Tour events came at the 2017 and 2023 Mitsubishi Electric Classic in Duluth, Georgia, and the 2023 Hassan II Golf Trophy in Morocco. Ames is one of two golfers to win three events on the Champions Tour this season. The other is Stricker, who has won the first two majors of the year–the Regions Tradition in Birmingham, Alabama, and the KitchenAid Senior PGA Championship in Frisco, Texas.