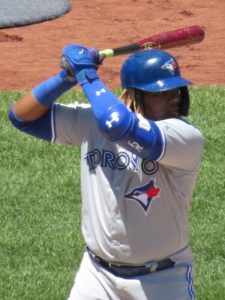 The Toronto Blue Jays came through with an impressive three game sweep over the New York Mets at Citi Field in New York this past weekend. A couple of reasons why this sweep was so noteworthy is because the Mets were picked by many to win the World Series as they have two of the game's top pitchers in Justin Verlander and Max Scherzer, and the fact the Mets have a gigantic payroll of $364 million–the highest by far in Major League Baseball.
Toronto's wins came by scores of 3-0 on Friday, 2-1 on Saturday, and 6-4 on Sunday. In Friday's win, the Blue Jays got home runs from George Springer and Daulton Varsho, along with 7 2/3 shutout innings from starting pitcher Chris Bassitt. The right-hander also had pinpoint control as he had eight strikeouts and zero walks, and only gave up three hits.
In Saturday's win, the Blue Jays got a game-winning double from Vladimir Guerrero Jr. of Montreal, Quebec in the top of the ninth inning which broke a 1-1 deadlock. Guerrero Jr. scored George Springer. From a pitching perspective, Jose Berrios had a quality start as he only gave up one earned run in six innings of work, and gave up four hits and three walks, to go along with six strikeouts. Nate Pearson got the win as he threw an outstanding eighth inning.
In Sunday's win, the Blue Jays offense shined as Guerrero Jr. and Brandon Belt each homered. Toronto now improves to a record of 33 wins and 27 losses, and are two and a half games back of the New York Yankees for the final wildcard spot in the American League.