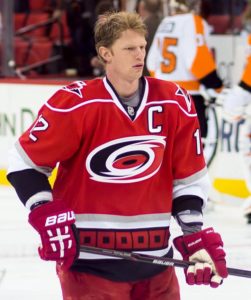 Canadian Olympic gold medalist Eric Staal of Thunder Bay, Ontario has helped the Minnesota Wild back into their first round playoff series against the Winnipeg Jets. On Sunday, Staal had a multi-point game (one goal and one assist for two points) in a 6-2 win over the Jets at the Xcel Energy Center in St. Paul, Minnesota. With the win, the Wild won their first game of the series, but still trail the Jets two games to one in the best out of seven series.
Staal, who won the gold medal for Canada at the 2010 Olympic Winter Games in Vancouver, was involved in Minnesota's opening goal of the game. Staal had an assist on a power play goal by Mikael Granlund at 9:47 of the first period that tied the game at one. He then scored at 14:40 of the second period from Granlund and Mathew Dumba of Regina, Saskatchewan, which put the Wild up 4-2 at the time.
Speaking of Dumba, he also had a multi-point game on Sunday, as like Staal, had a goal and an assist. Other Wild players with a multi-point game were Granlund (one goal and one assist), Mikko Koivu (two assists) and Nick Seeler (two assists).
Dumba was also one of three Canadians to score the game winning goal in Stanley Cup playoff action on Sunday. The others were Derick Brassard of Hull (now Gatineau), Quebec, who put the Pittsburgh Penguins up 2-0 in their 5-1 win over the Philadelphia Flyers, and Matt Calvert of Brandon, Manitoba, who scored the overtime winner in the Columbus Blue Jackets' 5-4 win over the Washington Capitals. With the Penguins win, they are up 2-1 in their best out of seven series. With the Blue Jackets win, they are up 2-0 in their best out of seven series.