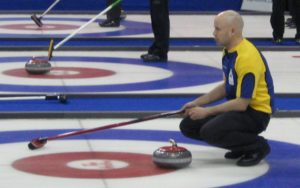 Alberta's Kevin Koe has won the 2018 Players' Championship in curling. On Sunday from the Mattamy Athletic Centre in Toronto, Ontario (previously known as the legendary Maple Leaf Gardens), the team skipped by Kevin Koe knocked off the 2018 World Champion and Olympic silver medalist Niklas Edin of Sweden 6-2 in the championship final.
In the final, Koe recorded two deuces in the second and sixth ends. In the second end, he had a double takeout for two points and in the sixth end knocked out an Edin stone with an angle raise for another two points.
The pressure Koe put on Edin at the Players' Championship was something he was unable to do during the round robin of the 2018 Olympic Winter Games in Pyeongchang.In the biggest curling tournament of the year this past February, Edin beat Koe 5-2 thanks to a steal of two points in the sixth end and another steal in the eighth end. From there, Edin went on to win the Olympic silver medal for Sweden, while Koe finished out of the medals in fourth place. It was the first time ever that Canada did not win a medal in Olympic men's curling in the history of the Olympic Winter Games.
Interestingly this was not the first time that Koe won the Players' Championship. He was the third for John Morris when he beat Kevin Martin in the final 7-6 in St. John's, Newfoundland in 2004. It was also the fifth grand slam title of Koe's career as he also won the 2013 Masters, the 2014 Canadian Open and 2016 Tour Challenge.