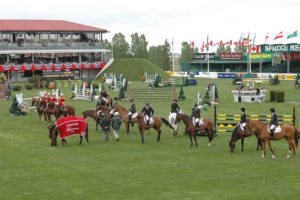 The Summer Series at Spruce Meadows has been postponed because of coronavirus according to Todd Saelhof of the Calgary Sun. The events impacted were the National (June 10-13), the Continental (June 17-21), the North American (July 8-11), and the Pan American (July 15-18). There is now hope to have a series of events in September.
The decision is extremely significant because the events were to be used as preparation among many world-class equestrian riders for the 2020 Olympic Games in Tokyo in 2021. Canadian Olympic gold medalist Eric Lamaze of Montreal, Quebec is the top-ranked Canadian equestrian rider in the world at 23. Lamaze won the gold medal in equestrian individual show jumping at the 2008 Olympic Games in Beijing. He also won the silver medal in the team event at the 2008 Olympic Games in Beijing, and the bronze medal in individual show jumping at the 2016 Olympic Games in Rio de Janeiro. 
Among the events that are still scheduled to take place in September is the coveted Masters, which is one of the four grand slam events on the FEI (International Equestrian Federation) calendar. The 2021 Dutch Masters which was to be held in March, has already been cancelled. Meanwhile, the grand slam events in Aachen, Germany on July 4, and Geneva, Switzerland on December 12 are still scheduled.