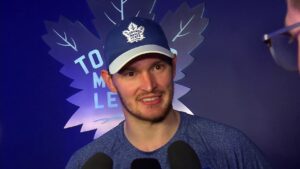 Michael Hutchinson of Barrie, Ontario had an early birthday present on Monday. One night before turning 31 years old, Hutchinson was in net for the Toronto Maple Leafs in their impressive 3-0 win over the Edmonton Oilers.
Hutchinson made nine saves in the first period, eight saves in the second period and 14 saves in the third period. Connor McDavid of Richmond Hill, Ontario led the Oilers with six shots on goal. It was the second straight game that the Oilers were shutout by the Maple Leafs, as Jack Campbell posted the shutout for Toronto on Saturday in a 4-0 Maple Leafs win.
Offensively for Toronto on Monday, the Maple Leafs had multi-point games from Morgan Rielly of Vancouver, British Columbia, and William Nylander of Calgary, Alberta. Both had one goal and one assist for two points. Zach Hyman of Toronto, Ontario scored the other goal for the Maple Leafs.
Hutchinson has been terrific for the Maple Leafs so far in 2020-21. He has a record of three wins and one loss, a goals against average of 1.77, and a save percentage of .943. Of his six career shutouts, three have been with the Maple Leafs, and the other three were with the Winnipeg Jets.
With the win, the Maple Leafs continue to lead the National Hockey League with a record of 17 wins, four regulation losses, and two extra losses for 36 points. They have a six-point lead on the second-place Florida Panthers.