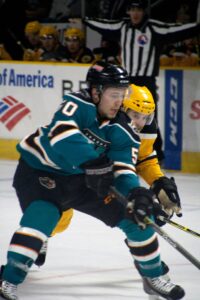 According to Cameron Woolley of thegamehaus.com on Saturday, the New Jersey Devils have signed centre Chris Tierney of Kewsick, Ontario to a one-year deal worth $775,000 on Friday. The Devils become the fifth National Hockey League team he has played for following four seasons with the San Jose Sharks (2014 to 2018), four seasons with the Ottawa Senators (2018 to 2022), and sharing last season with the Florida Panthers and Montreal Canadiens.
In 36 games last season with the Panthers and Canadiens, Tierney had three goals and seven assists for 10 points. He was a -8 with six penalty minutes, one shorthanded point, 19 shots on goal, 111 face-off wins, 21 blocked shots, 15 hits, 13 takeaways and 11 giveaways.
Tierney has been well known for his strong penalty kill skills, face-off ability and shooting efficiency. While with the Senators in 2019-20, he led the NHL with four shorthanded goals. Tierney has also won 1405 faceoffs in his career, and while with the Sharks, led all players in the 2016 Stanley Cup Playoffs in shooting percentage at 33.3%. He scored five goals on 15 shots on goal.
Tierney is one of three notable Canadians to join the Devils in the offseason. He is joined by centre Tyler Toffoli of Scarborough, Ontario and defenseman Colin Miller of Sault Ste. Marie, Ontario. The Devils acquired Toffoli in a deal with the Calgary Flames and Miller in a deal with the Dallas Stars.