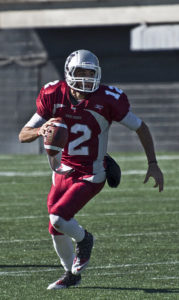 Ottawa Redblacks wide receiver Brad Sinopoli of Peterborough, Ontario was named the top Canadian at the 2018 Canadian Football League Awards in Edmonton, Alberta on Thursday. In a ceremony that took place at the Winspear Centre, Sinopoli beat out Winnipeg Blue Bombers running back Andrew Harris of Winnipeg, Manitoba to win the award.
Sinopoli set the record for most receptions by a Canadian in a CFL season with 116. He broke the record previously set by Ben Cahoon of Cardston, Alberta, who had 112 receptions with the Montreal Alouettes in 2003.
Sinopoli was also third in the CFL with 1376 receiving yards. He was behind D'haquille Williams of the Edmonton Eskimos (1579 yards) and Brandon Banks of the Hamilton Tiger-Cats (1423 yards).
This is Sinopoli's second most outstanding Canadian award. He previously won in 2015.
Sinopoli's teammate, Lewis Ward won two CFL awards on Thursday. The kicker won the CFL rookie of the year and CFL special teams player of the year. Calgary Stampeders quarterback Bo Levi Mitchell was named the CFL's most outstanding player, Chris Jones of the Saskatchewan Roughriders was named the CFL's coach of the year, Winnipeg Blue Bombers linebacker Adam Bighill was named the CFL's best defensive player and Stanley Bryant of the Blue Bombers was named the CFL's top offensive lineman.
Even though Ward was born in England, he attended the University of Ottawa and lives in Kingston, Ontario. Like Ward, Sinopoli also played his university football with the University of Ottawa Gee-Gees.