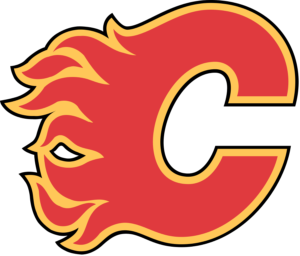 The Calgary Flames became only the fourth National Hockey League team in history to record five first period goals in back-to-back games on Wednesday. The Flames scored early and often in a 6-3 win over the Winnipeg Jets, only two nights after beating the Vegas Golden Knights 7-2. The last team to accomplish the feat was the St. Louis Blues, who beat the Minnesota North Stars 7-4 on November 21, 1989 and then the Winnipeg Jets 5-2 on November 23, 1989.
In the Flames win over the Golden Knights, the Flames got two goals from Sean Monahan of Brampton, Ontario and one goal each from T.J. Brodie of Chatham, Ontario, Keith Tkachuk and Johnny Gaudreau. In the Flames win over the Jets, the Flames got one goal each from five different players. Just like Monday, when the Flames beat the Golden Knights, Gaudreau and Tkachuk scored. The other Flames who scored in the first period against the Jets were Dillon Dube of Calgary, Alberta, Sam Bennett of Holland Landing, Ontario and Mark Jankowski of Hamilton, Ontario.
The goal for Dube was special because it was his first NHL career goal. It came at 2:07 of the first period from Jankowski and Garnet Hathaway and at the time, tied the game at one goal apiece. The Flames currently lead the Pacific Division with 27 points. They have one more point than the San Jose Sharks.