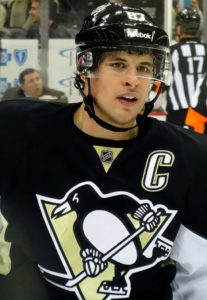 Canadian Olympic gold medalist Sidney Crosby of Cole Harbour, Nova Scotia recorded his 16th career National Hockey League hat trick on Tuesday. He accomplished the feat in a 5-3 Pittsburgh Penguins win over the Columbus Blue Jackets. Crosby, who won the gold medal for Canada in men's hockey at the 2010 Olympic Winter Games in Vancouver and the 2014 Olympic Winter Games in Sochi, had a four point night as he added an assist.
Crosby opened the scoring at 4:10 of the first period from Kris Letang of Montreal, Quebec and Marcus Pettersson.  He then scored the last two goals of the game. Crosby scored the game-winning goal to put the Penguins up 4-3 with five minutes and 32 seconds left in the third period. Erik Karlsson and Jake Guentzel had the assists. Crosby then closed out the scoring from Bryan Rust with 37 seconds left in the game.
In 14 games this season, Crosby has 10 goals and nine assists for 19 points. He is a +8 with 10 penalty minutes, three power-play points, one game winning goal, 54 shots on goal, 187 faceoff wins, six blocked shots, 13 hits, nine takeaways, and 11 giveaways.
With the win, the Penguins improve to a record of eight wins and six losses for 16 points. They have also won five straight games.