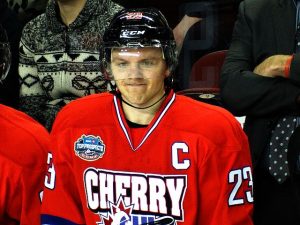 Florida Panthers center Sam Reinhart was named the National Hockey League first star of the week for the week from November 6-12, 2023. In four games the native of West Vancouver, British Columbia had three goals and seven assists for 10 points. He was a +5, with two power-play points, one game-winning goal, 12 shots on goal, one blocked shot, and seven faceoff wins.
Reinhart began the week with two assists in a 5-4 Panthers overtime win over the Columbus Blue Jackets on November 6. He then had one goal and one assist for two points in a 4-3 Panthers overtime win over the Washington Capitals on November 8, two assists in a 5-2 Panthers win over the Carolina Hurricanes on November 10, and two goals and two assists for four points on November 12 in a 4-3 Panthers win over the Chicago Blackhawks. Reinhart had the game-winning goal against the Capitals. The overtime winner was at the 15 second mark of the extra period from Evan Rodrigues of Toronto, Ontario and captain Aleksander Barkov.
In 2023-24, Reinhart has 11 goals and 10 assists for 21 points in 14 games. He is a +10 with two penalty minutes, five power-play points, a NHL-high three game-winning goals, one shorthanded point, three game-winning goals, 47 shots on goal, 40 faceoff wins, 14 blocked shots, five hits, five takeaways and seven giveaways. The shorthanded goal came on October 19 in a 3-1 Panthers win over the Toronto Maple Leafs. It was the fist shorthanded goal of his career.
The Panthers are in second place in the Atlantic Division. They have a record of nine wins, four regulation losses and one loss in extra time for 19 points.