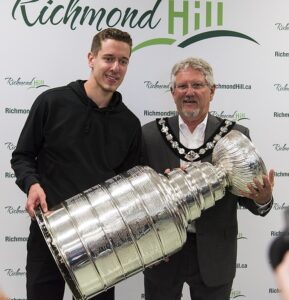 Jordan Binnington of Richmond Hill, Ontario recorded his 13th career National Hockey League shutout. He accomplished the feat in a 5-0 Blues win over the Tampa Bay Lightning on Tuesday from the Enterprise Center in St. Louis, Missouri.
Binnington made eight saves in the first period, 15 saves in the second period, and seven saves in the third period, for 30 saves overall. Brandon Hagel of Saskatoon, Saskatchewan, Steven Stamkos of Markham, Ontario and Nikita Kucherov led the Lightning with four shots on goal each.
Offensively for the Blues on Tuesday, two Canadians scored. Jordan Kyrou of Toronto, Ontario scored twice and Colton Parayko of St. Albert, Alberta had the game-winning goal at 11:09 of the first period from Robert Thomas of Aurora, Ontario, and Pavel Buchnevich.
In 2023-24, Binnington has a record of five wins, four regulation losses and one loss in extra time. He has one shutout, a goals against average of 2.27 and a save percentage of .930. All 13 of Binnington's NHL shutouts have been with the Blues. So far this season, the Blues have a regular season record of eight wins, five regular season losses, and one loss in extra time. They have 17 points overall, which is good enough for fourth place in the Central Division.