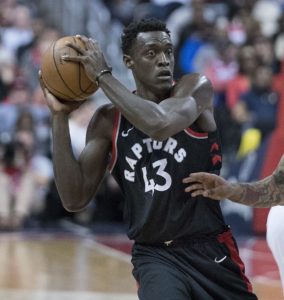 Pascal Siakam of the Toronto Raptors  set the Raptors franchise record on Sunday for most points in a single quarter. Siakam, of Douala, Cameroon, had 25 points in the first quarter as the Raptors defeated the San Antonio Spurs 110-106 at the AT&T Center in San Antonio, Texas.
Siakam finished the game with a game-high 35 points. He also had eight rebounds, three assists, one steal and was a +15. Siakam also went 12 for 23 in field goal attempts, five for 11 from three point range and six for nine in three throws.
Raptors point guard Kyle Lowry of Philadelphia, Pennsylvania had the old Raptors record for most points in a quarter with 22. Lowry set the record in a 96-86 Toronto win over the Atlanta Hawks on December 2, 2015.
On Sunday it was also Toronto's first win in San Antonio since December 28, 2007. That night Toronto beat San Antonio 83-73. In the Raptors win over the Spurs on January 26, Serge Ibaka of Brazzaville, Congo had a double double as he had 12 points and 12 rebounds off the bench. Three other Raptors had double digits in scoring as Lowry had 16 points, Fred VanVleet of Rockford, Illinois had 13 points and OG Anunoby of London, Great Britain had 10 points. Marc Gasol of Barcelona, Spain led the Raptors with 12 rebounds and VanVleet led the Raptors with seven assists.