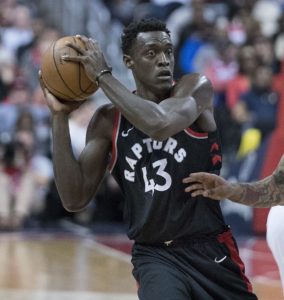 Toronto Raptors power forward Pascal Siakam of Douala, Cameroon was named the NBA Eastern Conference player of the week from January 20 to 26. In four games, all Raptors wins, Siakam averaged 23.5 points per game and averaged nine rebounds per game.
Siakam began the week with 18 points, six rebounds and one assist in a 122-117 win over the Atlanta Hawks in a Monday afternoon affair on Martin Luther King Day (January 20) at the State Farm Arena in Atlanta, Georgia. Siakam then had 18 points, 15 rebounds and three assists in a 107-95 Raptors home win over the Philadelphia 76ers on January 22 at the Scotiabank Arena in Toronto.
The Raptors then won again with Siakam playing an integral part in a 118-112 win over the New York Knicks at Madison Square Garden on January 24. Siakam had 23 points, seven rebounds and three assists.
Then in the Raptors win over the Spurs on January 26, Siakam got off to a record breaking first quarter start. He set the Raptors record for most points in a quarter (25) in a 110-106 win over the San Antonio Spurs. Siakam finished the game with 35 points, eight rebounds and three assists.
This is the third time this season that a Raptors player was the Eastern Conference player of the week. Siakam also received the honour from November 4 to 10, and Kyle Lowry was the Eastern Conference player of the week from December 16 to 22. Damian Lillard of the Portland Trail Blazers was the Western Conference Player of the Week for January 20 to 26.
The Raptors are currently tied for second in the Eastern Conference with the Miami Heat. Both teams have a record of 32 wins and 14 losses. The Milwaukee Bucks at 40 wins, and six losses, have the best record in the Eastern Conference and the NBA.