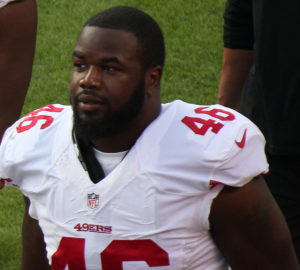 According to Dave Campbell of 630 CHED, defensive end Shawn Lemon of Charleston, South Carolina, is returning to playing professional football with Edmonton. Lemon, who initially played with Edmonton from 2012 to 2013, shared his time with the Toronto Argonauts and British Columbia Lions in 2019.
In addition to playing for the Eskimos, Argonauts and Lions, Lemon spent two seasons with the Saskatchewan Roughriders in 2011 and 2016, the Ottawa Redblacks in 2015, three more seasons with the Argonauts from 2016 to 2018, and another season with the Lions in 2018.
At 32 years of age, Lemon is 6'2″, 250 pounds. He won a Grey Cup with the Stampeders in 2014, and another with the Argonauts in 2017.
In 2016, Lemon was a divisional all-star for the only time in his career. Ironically it was a during a season he was traded from the Roughriders to the Argonauts. In 17 games that season with Saskatchewan and Toronto, he had 22 defensive tackles, 14 sacks, and five forced fumbles.
In 2019, Lemon was also traded. This time from the Argonauts to the Lions for defensive tackle Davon Coleman. In 14 games, Lemon had 34 defensive tackles, nine sacks, and three forced fumbles.
Lemon has the CFL record for most forced fumbles in a season (eight with the Stampeders in 2014). In 107 games, Lemon has 166 defensive tackles, 70 sacks, 22 forced fumbles, two special teams tackles, and one interception.