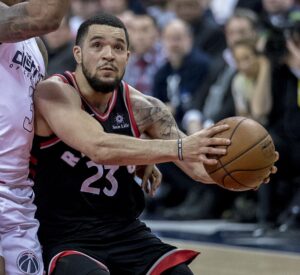 Fred VanVleet of Rockford, Illinois made Toronto Raptors history on Tuesday. In a 123-108 win over the Orlando Magic, VanVleet set the Raptors record for most points in a single game with 54.
VanVleet broke the record previously set by DeMar DeRozan on January 1, 2018. On New Year's Day three years ago, DeRozan had 52 points in a 131-127 Raptors win over the Milwaukee Bucks. However, one must realize that Raptors game went into overtime.
In addition to setting the Raptors record for most points in a single game, VanVleet broke the NBA record for most points in one game by an undrafted player. The previous record was 53 points by Moses Malone of the Houston Rockets. Ironically, that record was set on the exact same date,  February 2, 1982, in a 122-106 Rockets win over the Los Angeles Clippers.
In Tuesday's game in Orlando, VanVleet made 17 of 23 field goals, 11 of 14 three-point shots, and successfully made all nine of his free throw attempts. He also was a +20, and had three blocks, three rebounds, three steals, and two assists.
With the win, the Raptors improved to a record of nine wins and 12 losses on the season. They are currently in ninth place in the Eastern Conference.
In a different playoff format in the NBA this year, the top 10 teams in each conference make the postseason. The seventh place team plays the eighth place team to determine who gets the seventh seed. The loser of the seventh and eighth place game then plays the winner of the ninth and tenth place game to determine who gets the eighth seed.