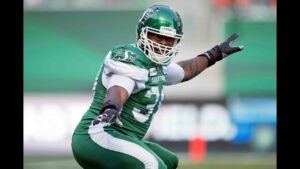 According to Frank Zicarelli of The Toronto Sun on Thursday, the Toronto Argonauts have signed defensive lineman Charleston Hughes of Saginaw, Michigan. Over the last decade one could argue that Hughes has been one of the best football players in the Canadian Football League on the defensive side of the football.
The Argonauts are Hughes' third Canadian Football League team. In addition to playing two seasons with the Saskatchewan Roughriders in 2018 and 2019, Hughes played 10 seasons with the Calgary Stampeders from 2008 to 2017.
While with the Stampeders, Hughes won a Grey Cup in 2008 and 2014. In 2008, the Stampeders defeated the Montreal Alouettes 22-14 in Montreal, and then in 2014, the Stampeders defeated the Hamilton Tiger-Cats 20-16 in Vancouver.
A six-time CFL All-Star (2012, 2013, 2016, and 2017 with Calgary, and 2018 and 2019 with Saskatchewan), Hughes has led the CFL in sacks four times. He had 18 sacks in 2013, 16 sacks in 2016, 15 sacks in 2018, and 16 sacks in 2019. With 130 career sacks, Hughes is eighth all-time on the CFL list. Grover Covington of the Hamilton Tiger-Cats is the CFL all-time leader in sacks with 157.
In 181 career CFL games, Hughes has 457 defensive tackles, 30 forced fumbles, and three interceptions. He also has had three touchdowns and 38 special team tackles. Interestingly, two of the touchdowns have come over the last two seasons of 2018 and 2019, with the Roughriders.