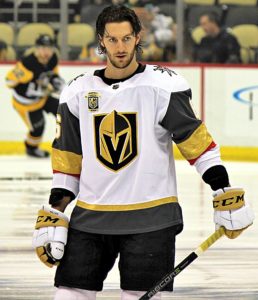 Two Canadian defensemen were traded on Canada Day according to Rogers Sportsnet. Joel Edmundson of Brandon, Manitoba was traded from the Montreal Canadiens to the Washington Capitals and Colin Miller of Sault Ste. Marie, Ontario was traded from the Dallas Stats to the New Jersey Devils.
Edmundson was traded for a third round pick and a seventh round pick in the 2024 National Hockey League Entry Draft. Miller was traded for a fifth round draft pick in the 2025 National Hockey League Entry Draft.
In 61 games for the Canadiens in 2022-23, Edmundson had two goals and 11 assists for 13 points. He was a -29 with 58 penalty minutes, one shorthanded point, 69 shots on goal, 149 blocked shots, 112 hits, 12 takeaways and 71 giveaways.
Both of Edmundson's goals came in Canadiens wins. The first came in a 3-2 Canadiens win over the Chicago Blackhawks on November 25. Edmundson scored from Sean Monahan of Brampton, Ontario at 3:21 of the first period to open the scoring. Edmundson then scored in a 6-4 Canadiens win over the Pittsburgh Penguins on March 14.  He scored with 11 seconds left in the first period from defenseman Jonathan Kovacevic of Niagara Falls, Ontario and Jonathan Drouin of Ste-Agathe, Quebec to put the Canadiens up 4-2 at the time.
Edmundson's shorthanded point also came in a Canadiens' win. It was a shorthanded assist on a goal by Nick Suzuki of London, Ontario in a 6-2 Canadiens win over the Capitals on April 6, 2023.
The Capitals are the fourth team that Edmundson has played for. In addition to the Canadiens, he played for the St. Louis Blues and Carolina Hurricanes. Edmundson won a Stanley Cup with the Blues in 2019.
In 79 games for the Stars in 2022-23, Miller had six goals and 15 assists for 21 points. He was a +23 with 37 penalty minutes, one power-play point, three game-winning goals, 106 shots on goal, 70 blocked shots, 108 hits, 29 takeaways, and 48 giveaways. Miller's power-play point was a power-play goal from Max Domi of Winnipeg, Manitoba and Evgenii Dadonov in a 4-1 Stars win over the Chicago Blackhawks on March 28. Miller scored with one minute and one second left in the first period and put the Stars up 2-0 at the time. In addition to playing for Dallas, Miller played for the Boston Bruins, Vegas Golden Knights and Buffalo Sabres.