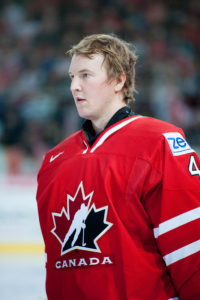 The San Jose Sharks traded goaltender Devan Dubnyk of Regina, Saskatchewan to the Colorado Avalanche on Saturday according to the Associated Press. In return, the Sharks received a fifth-round draft pick in the 2021 National Hockey League Entry Draft, and defenseman Greg Pateryn.
This will be the sixth NHL team for Dubnyk. He has previously played for the Edmonton Oilers, the Nashville Predators, Arizona Coyotes, and Minnesota Wild in addition to the Sharks. So far this season, Dubnyk has mostly backed up Martin Jones of North Vancouver, British Columbia in San Jose. In Colorado, he will be expected to back up Philipp Grubauer.
In 2020-21 with the Sharks, Dubnyk has a record of three wins, nine regulation losses, and two losses in extra time. His lone shutout came in a 6-0 Sharks win over the Anaheim Ducks on March 12, 2021. In this particular game, Dubnyk made 34 saves.
For his career, Dubnyk has a record of 250 wins, 204 regulation losses, and 54 losses in extra time, with 33 shutouts. He has a career goals against average of 2.60, and a save percentage of .914. Dubnyk's best goaltending came with the Wild. There he represented Minnesota in three NHL All-Star Games in 2016, 2017, and 2019.
Pateryn meanwhile has zero points in eight games with the Avalanche. He has previously played for the Montreal Canadiens, Dallas Stars, and Wild.
The Avalanche currently leads the West Division with 58 points. They have four more points than the Vegas Golden Knights.