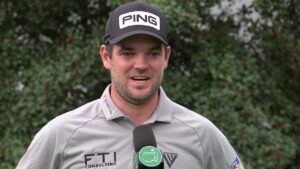 Corey Conners of Listowel, Ontario made Canadian golf history on Saturday by becoming only the second Canadian ever to record a hole-in-one at The Masters. Conners accomplished the feat on the sixth hole and moved from -3 to -5 for the tournament. The ace went 184 yards from the tee to the hole.
In the history of The Masters, Conners becomes the 33rd golfer to record a hole-in-one, and the second golfer this week. Tommy Fleetwood of England picked up an ace on the 16th hole in round one.
The first Canadian to record a hole-in-one at The Masters was Ross Somerville of London. Ontario according to CBS Sports. In fact, Somerville recorded a hole-in-one at the very first Masters of 1934, and was the first ever golfer to post a score of one for a single hole in the history of the Masters Tournament.
Somerville is best known for winning the 1932 U.S. Amateur where he beat American Johnny Goodman 2 & 1 at the Baltimore Country Club. He is one of only two Canadian golfers to win the U.S. Amateur. The other is Gary Cowan of Kitchener, Ontario, who won in 1966 and again in 1971. Somerville was inducted into Canada's Sports Hall of Fame in 1955.
Even though Conners went from -2 to -6 on Saturday, he still has work to do to get back in contention. That is because he is five strokes back of the leader, Hideki Matsuyama of Japan, who is at -11 after 54 holes.