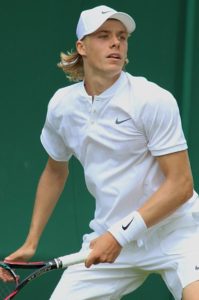 It has been an interesting season for Canadian tennis player Denis Shapovalov of Richmond Hill, Ontario. On Super Bowl Sunday, the teenager tried to rip a tennis ball into the stands during his Davis Cup match against Daniel Evans of Great Britain in Ottawa, but in the process hit French umpire Arnaud Gabas in the eye. As a result, Shapovalov lost by default 6-3, 6-4, 2-1 and Canada was eliminated from the 2017 Davis Cup.
Canadian fans had the right to hold a grudge against Shapovalov for his actions in February. However on Tuesday in the first round of the Rogers Cup in Montreal, they did not show it. In fact, they got behind the rising Canadian star in full force and the match was even attended by hockey sensation Wayne Gretzky, the greatest athlete in any sport, of all-time (will get to that later).
Where Shapovalov was most impressive was ability to perform under pressure. He was able to survive four match points and beat Rogerio Dutra da Silva of Brazil 4-6, 7-6, 6-4. It was the second straight year that Shapovalov won a first round match at the Rogers Cup as last year he shocked two-time grand slam quarterfinalist Nick Kyrgios of Australia 7-6, 3-6, 6-3 in Toronto.
Shapovalov unfortunately will be in tough on Wednesday in his quarterfinal match against Juan Martin Del Potro of Argentina. Del Potro is a grand slam champion (2009 U.S. Open), a two-time Olympic medalist and 2016 Davis Cup champion.
Gretzky, meanwhile said this week that he thought Roger Federer was one of the greatest athletes of all-time. That is high praise for Federer because Gretzky is the greatest athlete of all-time.