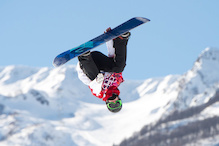 In the seventh of 10 interviews of high performance Canadian athletes who have a serious chance of winning a medal at the 2018 Olympic Winter Games in Pyeongchang, I am thrilled to share my interview with four-time Winter X Games gold medalist Maxence Parrot. A native of Cowansville, Quebec, Parrot is a strong medal contender in slopestyle snowboarding and big air snowboarding.
Q: You have an opportunity to be the very first big air gold medalist in Olympic snowboarding history. How excited are you about that possibility?
A: "I am definitely really excited about that possibility. Actually, I haven't even thought about that yet. I would say I am really focused not going out there to win, but to go out there and perform at my best. I know if I perform at my best, I should earn a medal. I feel if you concentrate more on the medals, you forget that you need to perform to get there. If you perform well, a medal comes with it."
Q: You have had great success at the Winter X Games over the years. How meaningful would it be for you to have Olympic success as well?
A: "I would be really happy. The Olympics are one of the only contests I have not earned a podium spot yet. It would be a big step in my career to put a little check next to the Olympics and earn a medal from it."
Q: Tell me about your connection with Mark McMorris. Would you consider him as your teammate or opponent?
A: "Teammate. I don't think in snowboarding we have any enemies. We are all a bunch of friends, and it is mostly at the end you are competing against yourself, and beating your own self on the slopes."
Q: Tell me about your Olympic experience in Sochi. It wasn't exactly the result you were hoping for in the men's slopestyle (fifth place). What did you learn from that experience that will help you in Pyeongchang?
A: "It was a really great experience at the last Olympics. I am not sure what I learned from them. I have changed a lot since Sochi. I was training on my own back then and now I have a big team around me. New people were added to the team recently and the last two years has been a big success for me. They have been the best of my career. I feel really good (heading towards) Pyeongchang."
Q: The technicality in big air and slopestyle snowboarding is spectacular. What jump do you feel the most comfortable with?
A: "That's a good question. All the jumps and all the tricks I do are definitely hard. They all have risk. There are a couple of more jumps I feel are more constant. I feel like the new jump right now that is making me successful is the cab triple cork 1800. I started to do it more and more during contests and it has been working out really well. The judges like it a lot and think it is cool too."
Q: In terms of training, do you focus more on big air or slopestyle?
A: "I focus on both. Both are really, really similar. Strategy wise, they are totally different. In big air, you want to go 100% and be risky. You want to put out your biggest tricks. But in slopestyle, you want to be more constant, not put out your biggest tricks, but one that is going to be clean from the top to the bottom."
Q: I understand your father Alain was a Canadian water skiing champion. How much have you learned from him along the way?
A: "He has always been super supportive to me. He has always been one of my biggest fans. I feel like there has always been a connection between me and him. We connect because he has been through what I am going through right now, like traveling. He knows how busy it can get. He understands me a lot. It is a really good connection that I have with my dad."
Q: What are your goals this upcoming snowboarding season?
A: "That is a good question. If I go back two years ago, if I won a medal, I would be really happy. This year I realized when I finished second, I would not be satisfied. I am feeling more and more competitive, and I am at the step now that I want to do everything I can to always win the contest and be on top of the game. This is my goal for next season is to win as many contests as I can and perform at my best. My goal during my training this summer is to take as many steps as I can in front of the other snowboarders, so I am ready for the season. I feel when I snowboard in contests, I have an advantage because of my training."