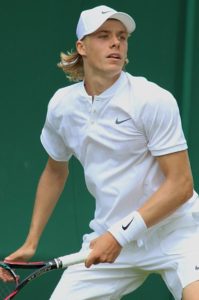 Denis Shapovalov of Toronto, Ontario, has advanced to the quarterfinals of the 2018 Japan Open in Tokyo. On Wednesday, Shapovalov upset the three-time major champion Stanislas Wawrinka of Switzerland 4-6, 6-1, 6-4 in the second round.
In the first meeting between the two players, Shapovalov completely dominated the second set. In the second game of the second set, Shapovalov was down 0-40 to Wawrinka, and then won six of the next seven points to win the game. In the fourth game of the second set, Shapovalov broke Wawrinka at love.
The win for Shapovalov should boost his confidence. Wawrinka has won the French Open, Australian Open and the U.S. Open in the past.
Shapovalov will be joined in the quarterfinals in Tokyo with fellow Canadian Milos Raonic of Thornhill, Ontario. Raonic beat Yosuke Watanuki of Japan 6-3, 7-6. Raonic's serve was working extremely well as he delivered 15 aces.
This will be the first time ever that Raonic and Shapovalov have reached the quarterfinals of the same ATP event. Shapovalov will next play Jan-Lennard Struff of Germany, while Raonic will next play Daniil Medvedev of Russia. This will be the first time ever that Shapovalov will play Struff and the first time Raonic will play Medvedev. The other quarterfinals have Kevin Anderson of South Africa against Richard Gasquet of France and Kei Nishikori of Japan against Stefanos Tsitsipas of Greece,