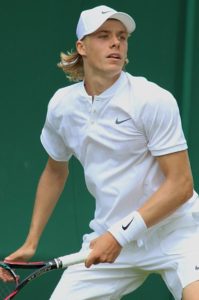 Canadian tennis phenom Denis Shapovalov made tennis history on Friday night when he beat Adrian Mannarino of France 2-6, 6-3, 6-4 in the quarterfinals of the 2017 Rogers Cup from Montreal, Quebec. Shapovalov, became the youngest tennis player ever at 18 years of age, to qualify for the semi-finals of an ATP Masters 1000 series event according to the ATP World Tour. 
Unfortunately for Shapovalov of Richmond Hill, Ontario, he struggled in the semi-finals as he lost in straight sets to fourth ranked Alexander Zverev of Germany 6-4, 7-5 in the semi-finals. Zverev went on to beat the great Roger Federer of Switzerland in the final on Sunday 6-3, 6-4 for his second ATP Masters 1000 series title of 2017. Zverev also beat Novak Djokovic of Serbia 6-4, 6-3 in the final of the Italian Open in May.
However from a Canadian standpoint the biggest news at the 2017 Rogers Cup was simply the progress made by Shapovalov. The country is still buzzing after his impressive three set quarterfinal win over the great Rafael Nadal of Spain.
Shapovalov also made a huge rise in the ATP rankings with the win. A week ago he was ranked 143rd. Now his world ranking is 67th. That is an amazing jump of 76 spots.
Tennis Canada needs to be commended for the record crowds in Montreal. The 2017 Rogers Cup had 216,097 fans. That was the most ever for a one week tennis tournament.