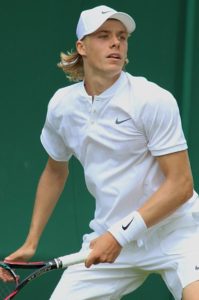 Denis Shapovalov of Toronto, Ontario is in the third round of the 2018 Rogers Cup in Toronto, Ontario. On Wednesday, Shapovalov beat Italian veteran Fabio Fognini 6-3, 7-5 in straight sets.
Shapovalov showed outstanding patience and resiliency in the second set. He was once down 4-0 to Fognini, but marched back to win seven of the next eight games to win the match.
One area of Shapovalov's game that was working well on Wednesday was his serve. He had nine aces and only one double fault. Shapovalov also saved 50% of Fognini's break point opportunities.
In the third round, Shapovalov will face Robin Haase of the Netherlands. The two have played once before with Shapovalov winning in the second round of the 2018 Italian Open, 7-6, 6-7, 6-3. The winner of Shapovalov and Haase will face the winner of 2018 Wimbledon semifinalist John Isner of the United States and Karen Khachanov of Russia in the quarterfinals.
Another big match on Thursday has French Open champion Rafael Nadal of Spain facing Stanislas Wawrinka of Switzerland. Nadal has won 17 grand slam titles, second only to Roger Federer of Switzerland, who has won 20. Wawrinka meanwhile has won the 2014 Australian Open, 2015 French Open and 2016 U.S. Open. Wawrinka's 2014 Australian Open tournament final win came over Nadal, as he beat him 6-3, 6-2, 3-6, 6-3 in four sets. Wawrinka is only 3-16 all-time against Nadal, with their last meeting being the 2017 French Open Final where Nadal won handily 6-2, 6-3, 6-1.