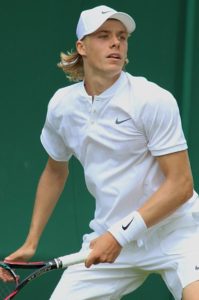 Three more Canadians have joined Milos Raonic of Thornhill, Ontario and Peter Polansky of Toronto, Ontario in the second round of the 2018 Rogers Cup, They are Denis Shapovalov of Toronto, Ontario, and Felix Auger-Aliassime and Francoise Abanda of Montreal, Quebec.
Shapovalov, Auger-Aliassime and Abanda not only won their first round matches, but won them with ease and without too much sweat. In Toronto, Shapovalov only took one hour and three minutes to beat Jeremy Chardy of France 6-1, 6-4. It was Shapovalov's second win over Chardy this summer as he also beat him in the first round of Wimbledon.
For Auger-Aliassime it was his first Masters 1000 series victory against a player born outside of Canada, and for Abanda, it was her second career win at the Rogers Cup. Auger-Aliassime beat Lucas Pouille of France 6-4, 6-3 in a very impressive win for the 17 year-old. There is no doubt that Auger-Aliassime is a player on the rise, and is much better than his current seeding of 133. The one statistic that stood out in Auger-Aliassime's win is that he won 70% of his second serve points, while Pouille only won 41% of his second serve points.
Abanda meanwhile beat 2013 Wimbledon semifinalist Kirsten Flipkens of Belgium 6-3, 6-2 in only one hour and 13 minutes. She will now face a very tough opponent in round two– the third seed and reigning U.S. Open champion, Sloane Stephens of the United States on Wednesday.
Raonic will also face an American in round two in Frances Tiafoe. It will be their first career meeting. Meanwhile, Shapovalov's second round opponent is 14th ranked Italian Fabio Fognini of Italy and Auger-Aliassime's second round opponent will be Danill Medvedev of Russia. Polansky's second round opponent will be much tougher as he has reigning Wimbledon champion Novak Djokovic of Serbia.