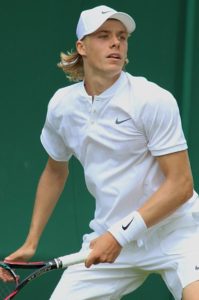 Denis Shapovalov of Toronto, Ontario is in the quarterfinals of the ABN AMBRO World Tennis Tournament in Rotterdam, Netherlands on Friday. On Wednesday in the second round, Shapovalov beat 2010 Wimbledon finalist Tomas Berdych of the Czech Republic 6-4, 6-3 in a match that went one hour and 17 minutes.
A major reason why Shapovalov had the straight set win, is because he had 33 winners compared to Berdych's nine. He was also able to break Berdych four times, while Berdych was able to break Shapovalov once.
Shapovalov will next play a three-time grand slam champion in Stanislas Wawrinka of Switzerland. Wawrinka won the 2014 Australian Open, the 2015 French Open and the 2016 U.S. Open. In the second round, Wawrinka beat Milos Raonic of Thornhill, Ontario 6-4, 7-6 to prevent an all-Canadian quarterfinal matchup.
In 2019, Shapovalov has a record of seven wins and three losses. He reached the quarterfinals of the Open Sud de France in Montpellier, France last week before losing to Pierre Hugues-Hebert 7-5, 7-6. Shapovalov also had two outstanding wins earlier this month in Slovakia to help Canada qualify for the 2019 Davis Cup in Madrid, Spain. Shapovalov beat Filip Horansky of Slovakia 6-4, 7-5 and Martin Klizan of Slovakia 7-6, 6-4. Shapovalov's win over Klizan was extremely impressive because he won in a setting where the crowd was pro-Klizan and the surface was clay.
Shapovalov has beaten Wawrinka once before. In the second round of the 2018 Japan Open, Shapovalov won 4-6, 6-1, 6-4 in their only career meeting to date.