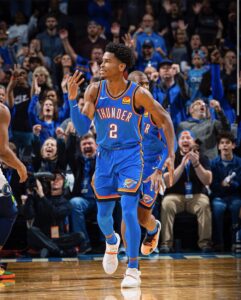 According to Cliff Brunt of the Associated Press on Friday, Shai Gilgeous-Alexander of Toronto, Ontario scored a career-high 33 points as the Oklahoma City Thunder defeated the Chicago Bulls 127-125 in overtime. For Gilgeous-Alexander it was the second time this season he has reached the 30-point plateau. He had 31 points in a 129-116 Thunder win over the Brooklyn Nets on January 10.
Gilgeous-Alexander's previous career-high was 32 points, which he accomplished thrice during the 2019-20 National Basketball Association regular season. He reached that mark the first time in a 126-108 Thunder win over the Phoenix Suns on December 20, 2019, and tied that mark with 32 points in a 118-112 win over the Los Angeles Clippers on December 22, 2019, and in a narrow 98-97 Thunder win over the Toronto Raptors on December 29, 2019. The third time Gilgeous-Alexander had 32 points was in Toronto.
On Friday, Gilgeous-Alexander had a double-double, as he also had 10 assists. He also ended the night with five rebounds and one steal. Gilgeous-Alexander made 13 of 19 field goal attempts, three of his five three-pointers, and all four free throws.
Nickeil Alexander-Walker of Toronto has the most points scored by a Canadian in a game this season. The cousin of Gilgeous-Alexander had 37 points for the New Orleans Pelicans in a 111-106 loss to the Los Angeles Clippers on January 13.