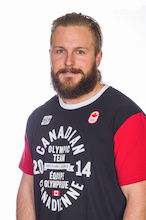 According to CBC Sports on Saturday, Canadian Olympic gold medalist Justin Kripps of Summerland, British Columbia, and Cameron Stones of Whitby, Ontario won the bronze medal in men's two-man bobsled at a World Cup competition in St. Moritz, Switzerland on Saturday. This was the first podium finish this season for Kripps and Stones in two-man. Last week in Winterberg, Germany, Kripps and Stones teamed up with Ryan Sommer of White Rock, British Columbia, and Ben Coakwell of Regina, Saskatchewan, to win a silver medal in the four-man World Cup.
Kripps and Stones posted a third-place time in St. Moritz of 2:12.84. Francesco Friedrich and Alexander Schueller of Germany won the gold medal with a time of 2:11.92, and Johannes Lochner and Florian Bauer of Germany won the silver medal with a time of 2:12.37.
Kripps and Stones reached the podium by five one-hundredths of a second. Hans Peter Hanninghofer and Marcel Kornhardt of Germany finished in fourth place with a time of 2:12.89.
There are two more World Cup events this season. They are in Konigssee, Germany next weekend, and then in Innsbruck, Austria the week after. Altenberg, Germany will host the World Championship for two-man on February 6 and February 7.