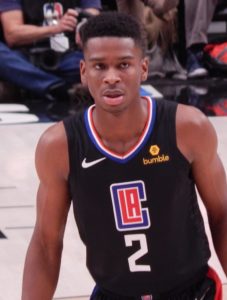 Shai Gilgeous-Alexander of Toronto, Ontario became just the second Canadian ever to record a triple double on Monday according to the Associated Press. He had 20 points, 20 rebounds and 10 assists for the Oklahoma City Thunder in a 117-104 Thunder win over the Minnesota Timberwolves.
Gilgeous-Alexander follows in the footsteps of Steve Nash of Victoria, British Columbia. Nash had three triple doubles in his career.
The first triple double for Nash came with the Dallas Maverivcks on November 17, 2003. He had 14 points, 12 assists and 10 rebounds in a 105-98 Mavericks win over the Portland Trail Blazers. Nash then had 34 points, 13 rebounds and 12 assists in a 114-108 playoff win for the Phoenix Suns over the Mavericks in game five of the 2005 Western Conference semifinals on May 18, 2005. Then Nash had 16 points, 10 rebounds and 12 assists in a 106-96 Suns win over the Trail Blazers on April 19, 2006.
Gilgeous-Alexander also made NBA history with his triple double. At 21 years old and 185 days old, he became the youngest player to have a 20 rebound triple double. Shaquille O'Neal had 24 points, 28 rebounds and 15 blocks for Orlando in a 87-85 win over the New Jersey Nets on November 20, 1993. At the time, Shaq was only 21 years old and 259 days old.
With the win,the Thunder have a record of 23 wins and 17 losses. They are in seventh place in the Western Conference.