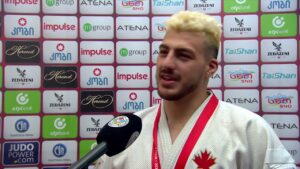 Shady El Nahas of Toronto, Ontario won the silver medal in the men's 100 kilogram weight class at a Judo Grand Slam in Baku, Azerbaijan on Sunday according to the Canadian Press. For El Nahas, it was his sixth career medal at an International Judo Federation Grand Slam event.
El Nahas was in Pool A in Baku, where he beat Adil Karimli of Azerbaijan. The fact that El Nahas got off to a victory against a judokan who had home mat advantage, was very impressive. In Karimli's first match, he defeated Canadian Ian Ryder of Richmond, British Columbia.
In the semifinals, El Nahas defeated Andre Humberto of Brazil, before losing to gold medalist Niiaz Bilalov of Russia in the gold medal bout. Onise Saneblidze of Georgia, and Kentaro Iida of Japan each won the bronze medal.
This was the first international judo competition that El Nahas had competed in since finishing in fifth place at the 2020 Olympic Games in Tokyo in 2021. He is also scheduled to compete in the Abu Dhabi Grand Slam later this month. El Nahas's lone career grand slam title came in Tbilisi, Georgia in March.
El Nahas is currently in second place in the men's 100 kilogram world rankings in  judo. He is only behind Arman Adamian of Russia. Bilalov is currently ranked 15th in the world. The silver medal for El Nahas will give him confidence as he prepares for the 2024 Olympic Games in Paris.