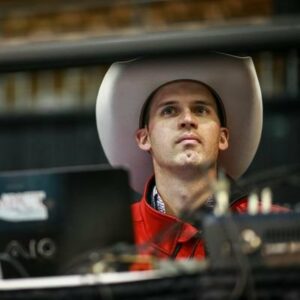 Seven more Canadians have reached the semifinals at the 2023 Calgary Stampede. They are Layton Green of Millarville, Alberta (saddle bronc), Logan Hay of Wildwood, Alberta (saddle bronc), Quinten Taylor of Nanton, Alberta (saddle bronc), Kolby Wanchuk of Sherwood Park, Alberta (saddle bronc), Jared Parsonage of Maple Creek, Saskatchewan (bull riding), Coy Robbins of Camrose, Alberta (bull riding), and Scott Guenthner of Provost, Alberta (steer wrestling). Green, Hay, Wanchuk, Taylor, Parsonage, Robbins and Guenther qualified from the completed Pool B standings. Zeke Thurston of Big Valley, Alberta (saddle bronc), Clint Laye of Cadogan, Alberta (bareback), and Beau Cooper of Stettler, Alberta (tie-down roping) already qualified for the semifinals through the Pool A standings.
In the saddle bronc, Green finished in third place on Wednesday with 86 points. He was one point back of Stetson Wright of Milford, Utah and Ross Griffin of Tularosa, New Mexico, who each had 87 points. Green won the Pool B aggregate standings with $11,500. He was followed by Hay, who was in second place with $7,000, Taylor, who was in third with $6500, and Walchuk, who was tied for fourth with $5500. Walchuk was tied with Ross Griffin of Tularosa, New Mexico.
In the bull riding, Parsonage had the best score on Wednesday of 85 points. He had a half a point more than Sage Steele Kimzey of Salado, Texas, who was second with 84.5 points. Parsonage was the Pool B Standings leader with $18,233.33. Robbins qualified for the semifinals by finishing fourth with $7200. Ky Hamilton of Mackay, Australia and Kimzey also reached the semifinals.
In the steer wrestling, Guenther was the Pool B aggregate leader with $16,000. He was followed by Ty Erickson of Helena, Montana ($10,875), Will Lumus of Byhalia, Mississippi ($10,500) and Tristan Martin of Sulphur, Louisiana ($8,375).
Finally in the Rangeland derby chuckwagon racing, Jamie Laboucane of Saint Walburg, Saskatchewan had the fastest time on Wednesday of 1:11.51. Kurt Bensmiller of Dewberry, Alberta is the aggregate leader with a time of 7:09.15.