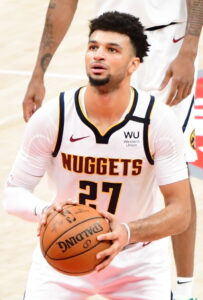 The 2023 ESPY Awards took place on Wednesday at the Dolby Theatre in Los Angeles, California. Two Canadians were honoured. Jamal Murray of Kitchener, Ontario received the best comeback athlete of the year award, and Connor McDavid of Richmond Hill, Ontario received the best National Hockey League Player Award for the first time.
Murray, who is a point guard for the Denver Nuggets, missed half of the 2020-21 National Basketball Association season and the entire 2021-22 NBA regular season with a torn anterior cruciate ligament. He came back for the 2022-23 NBA season, and averaged 20 points per game, 6.2 assists per game, four rebounds per game, one steal per game, and had a field goal percentage of .454, three-point percentage of .398, and free throw percentage of .833.
Then in the NBA Playoffs, Murray guided Denver to their first ever NBA Finals title. He averaged 26.1 points per game, 7.1 assists per game, 5.7 rebounds per game, 1.5 steals per game, a field goal percentage of .473, three-point percentage of .396, and a free throw percentage of .926.
McDavid won the Hart Trophy, Art Ross Trophy and Maurice Rocket Richard Trophy in the same season for the first time in his career. The Edmonton Oilers centre and captain had 64 goals and 89 assists for 153 points. McDavid was also a a +22 with 36 penalty minutes, 71 power-play points, seven shorthanded goals, 11 game-winning goals, 352 shots on goal, 525 faceoff wins, 40 blocked shots, 89 hits, 82 takeaways, and 77 giveaways.