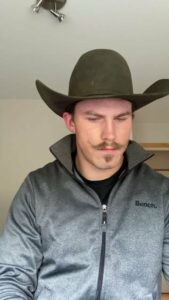 Kody Lamb of Sherwood Park, Alberta had the best score in the bareback competition on Thursday at the Calgary Stampede. He had a score of 84.5 points, and in the process came away with $7,000.
Lamb was in fact three Canadians in the top four in the bareback event. Cole Goodine of Carbon, Alberta was in third place with 83 points and Orin Larsen of Inglis, Manitoba was in fourth place with 82.5 points. The only other bareback rider in the top four was Richmond Champion of Stevensville, Montana, who was in second place with 84 points.
Two more Canadians finished in the top four on Thursday in the opening day in Pool C. It was the saddle bronc event where Canadians had success. Ben Andersen of Rocky Mountain House, Alberta was in second place with 83.5 points. Kole Ashbacher of Arrowwood, Alberta finished in fourth place with 81.5 points. Chase Brooks of Deer Lodge, Montana had the best saddle bronc score of  86.5 points and Logan Cook of Alto, Texas had the third best score of 82.5 points.
In the 2023 Rangeland Derby Chuckwagon Racing event, Chanse Vigen of Calgary, Alberta had the fastest time of 1:10.93. Kurt Bensmiller of Dewberry, Alberta has the best aggregate time after seven days of 8:20.56.